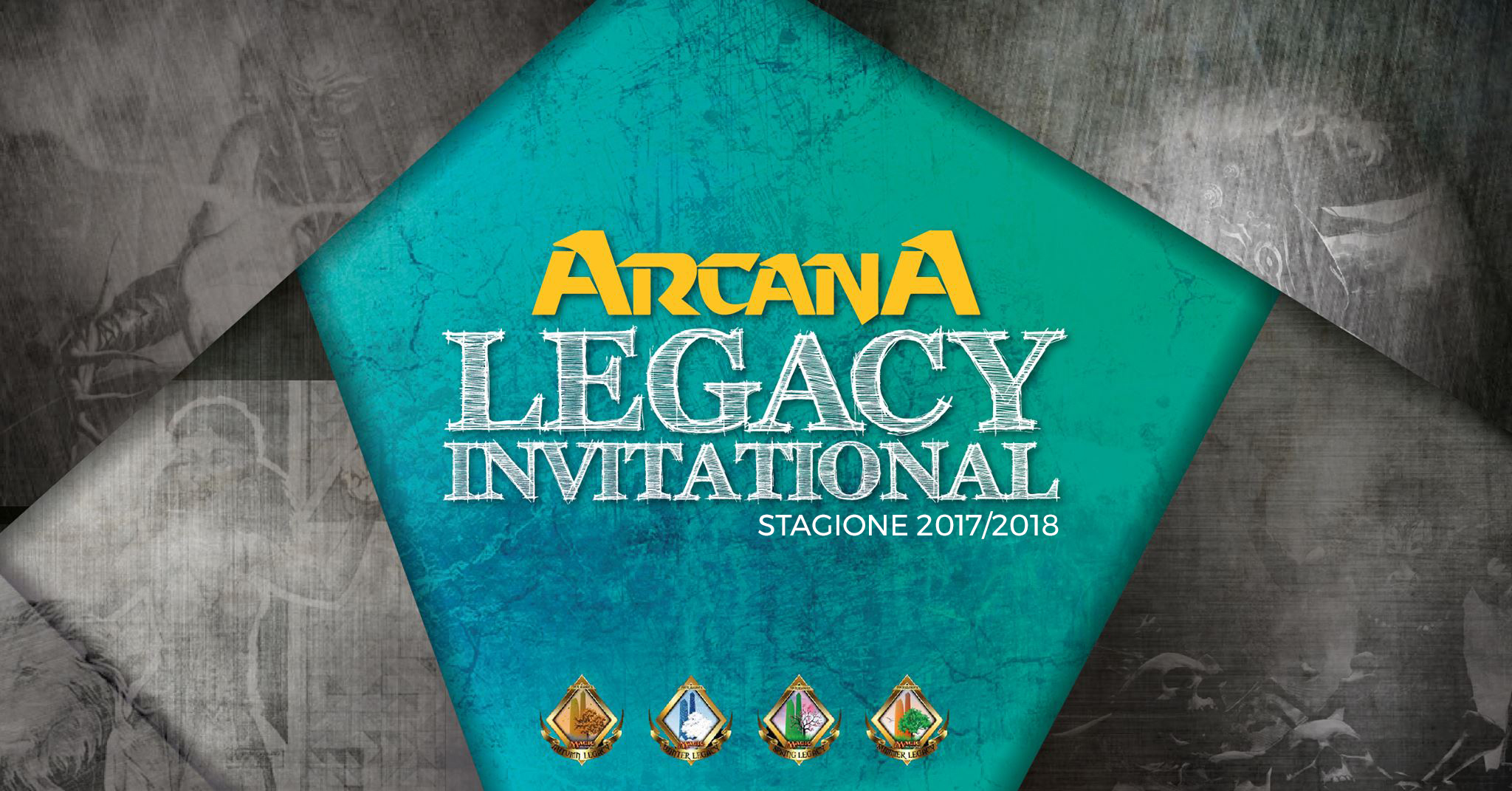 Finalmente fuori il report completo dell'Arcana Legacy Invitational della stagione 2017-18. Anche quest'anno nella favolosa location del 4S, il circolo Arci Benassi a San Lazzaro di Savena.
Evento in diretta streaming con una squadra di super commentatori capitanata da Covoni, Master of Streaming.
Al via 40 qualificati, la maggior parte tramite le leghe del Bel Paese mentre ulteriori 6 grazie a due Top8 centrate durante la stagione. Ecco a voi i dettagli:
Qualificati tramite leghe:
1) Benassi (Bologna): Claudio Bonanni, Gabriele Mancino
2) Bra in Storm (Bra): Francesco Merolla
3) Cenagiardino (Verona): Giacomo Zorzan
4) EBT (Lucca): Nicolò Pensa, Riccardo Dinelli
5) FML (Ferrara): Luca Rainieri, Michele Guerra
6) FNM (Umbersetto): Leone Tuccinardi
7) H-Demia Penta (Cento): Danny Carpeggiani, Gianluca Barbati
8) King's Cross (Barga): Francesco Firinu
9) Kingdom Domenicale (Roma): Federico Guerrieri, Michele Gasparini
10) Kingdom Summer (Roma): Gian Marco Pagano, Christian Onori
11) Kuldotha (Genova): Gabriele Tocchi
12) LAW (Empoli): Andrea Faina
13) LU (Perugia): Andrea Ranocchia
14) LVL (Savona): Samuele Frisina, Francesco Schito
15) MLL (Milano): Nicolas Barbarisi, Giacomo Farioli, Massimiliano Guerini
16) Olympus (Brescia): Paolo Buschi, Daniele Bressan, Nicolò Rizzi
17) PGG (Vicenza): Alessandro Tassini, Massimo Scalchi, Gianluca Gazzola
18) SLS (Senigallia): Daniele Terra
19) Sud Pontino (Gaeta): Roberto Di Tucci
20) TME (Trieste): Enrico Crotti
21) ULL (Terni): Leonardo Ansuini
Qualificati bonus:
Boccia Andrea: 4Seasons Spring & Ovino XII
Cadei Angelo: 4Seasons Spring & Ovinospring
Fuseri Ivan: Campione in carica
Guidi Nicola: 4Seasons Autumn & Ovino XII
Pineschi Iacopo: 4Sesons Winter & MKM Roma
Venditti Roberto: Legacy Cup Winner
La classifica dopo i 6 turni di svizzera è stata la seguente:
CLASSIFICA SVIZZERA: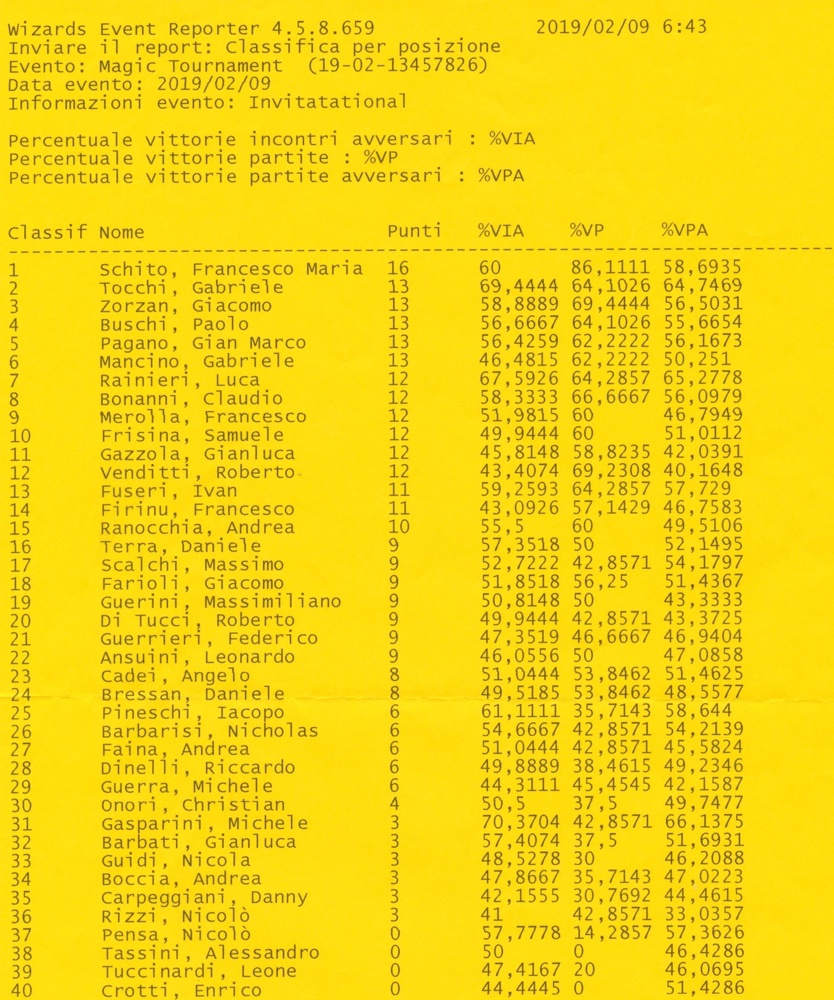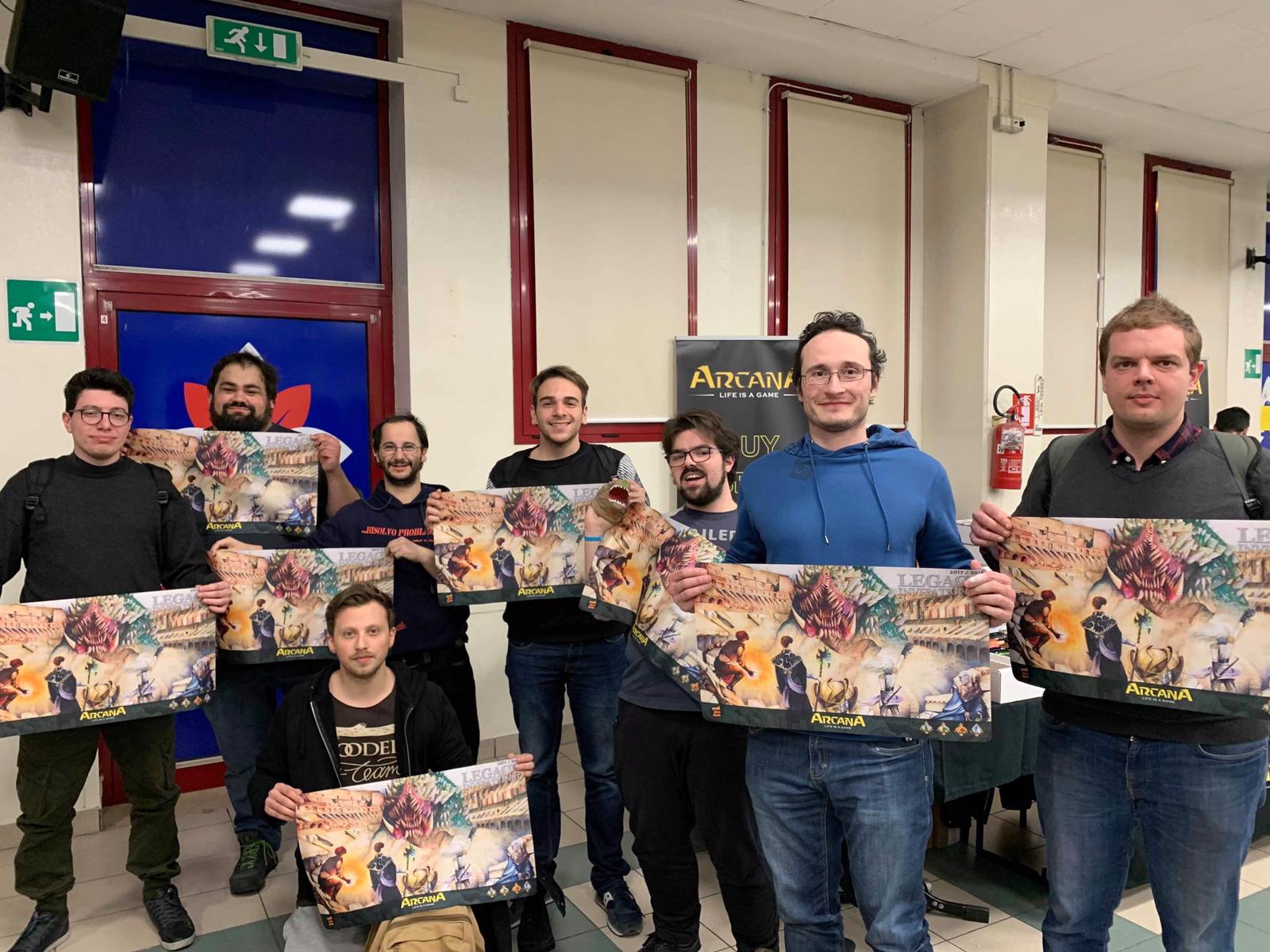 CLASSIFICA FINALE: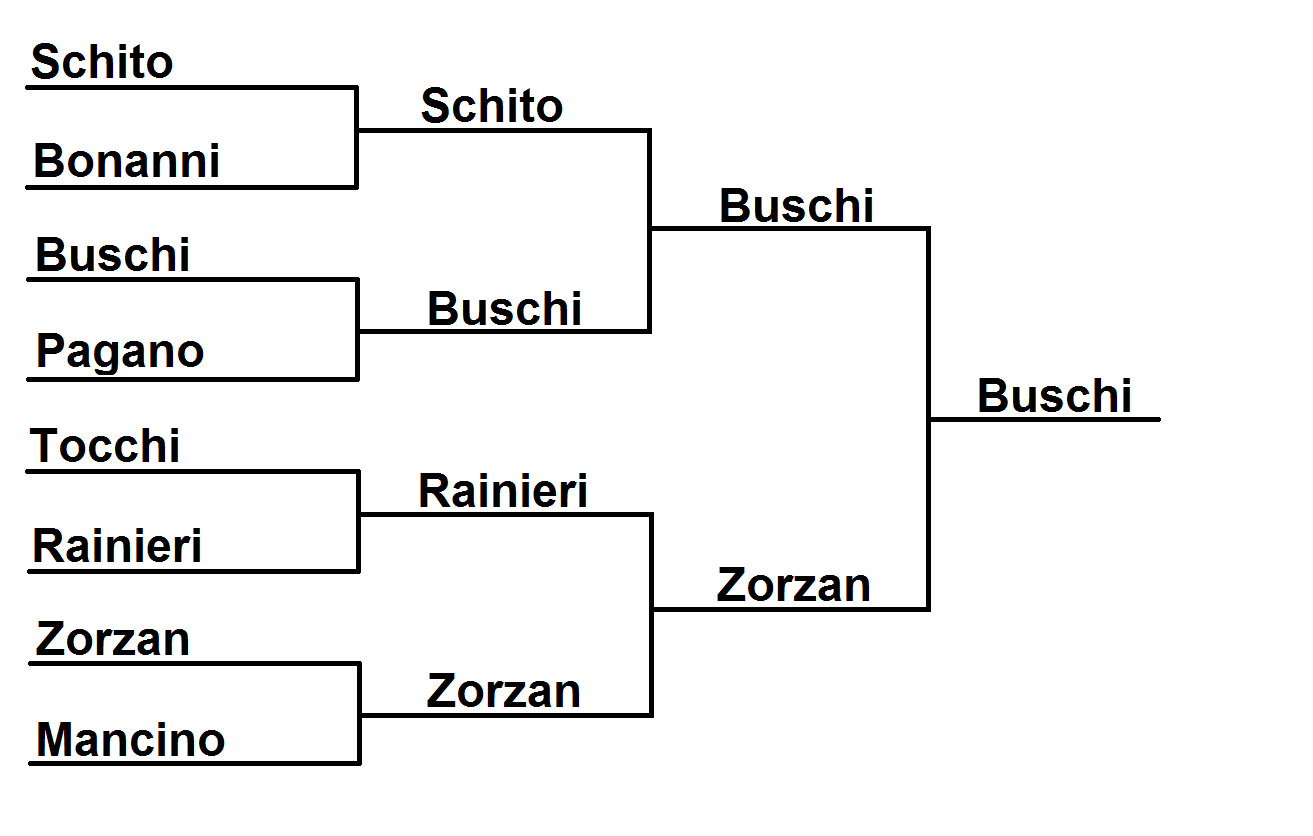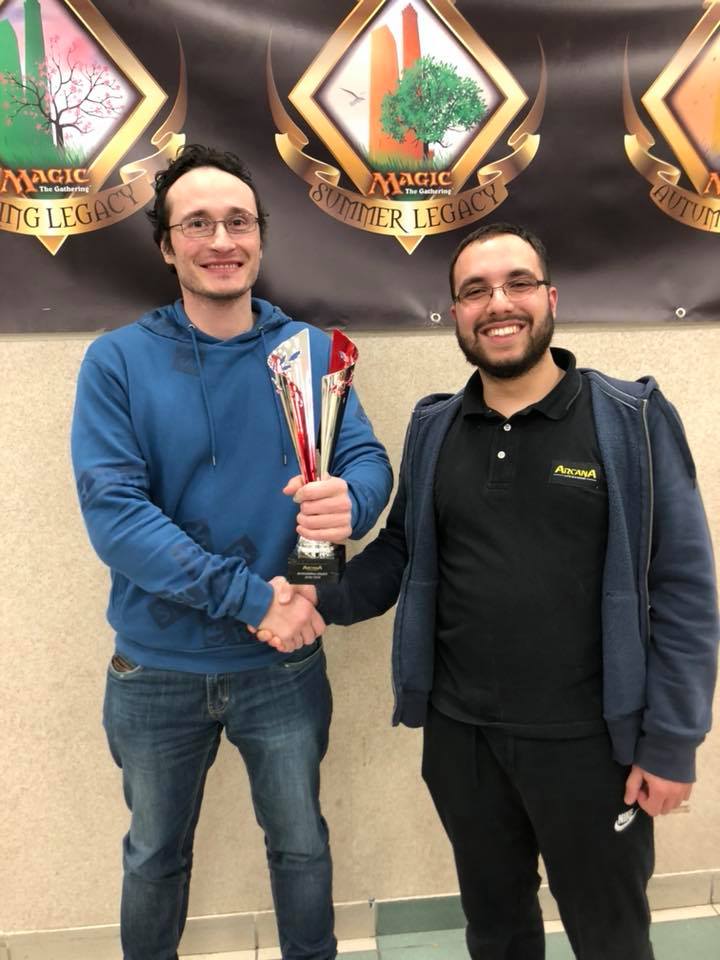 1° Buschi Paolo
2° Zorzan Giacomo
3° Schito Francesco Maria
4° Rainieri Luca
5° Tocchi Gabriele
6° Pagano Gian Marco
7° Mancino Gabriele
8° Bonanni Claudio
LISTE:
CAMPIONE Paolo Buschi – Death & Taxes – Morte agli Show

---

2° Giacomo Zorzan – Omnitell - L'Omnitell delneriano dei miracoli

---
3° Francesco Maria Schito – UR Delver

---

4° Luca Rainieri – UW TITI Control – L'Entropia

---

5° Gabriele Tocchi – 4C Control – Nella scuola Scuola Italia è vietata la bocciatura, per ovvi motivi by TMDC

---
6° Gian Marco Pagano – Infect
---
7° Gabriele Mancino – Grixis Control
---
8° Claudio Bonanni – Esper Miracle
---
METAGAME & MEDIA PUNTI:
Analizziamo ora un po' il metagame dell'evento. Come si può vedere dal grafico del Metagame per tipologia c'è stato un perfetto equilibrio tra Control, Combo e Aggro-Control, spezzato solo in Top8 dove sono arrivati ben quattro Control, due Combo, un Aggro-Control ed infine uno dei quattro Aggro presenti.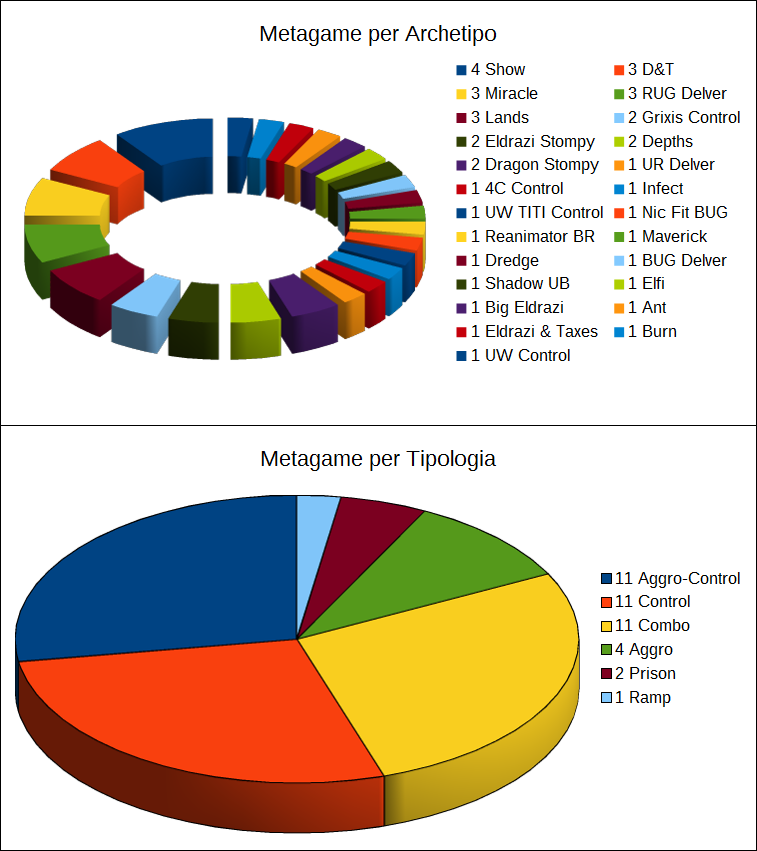 Di seguito invece i dati relativi alla media punti di ogni archetipo: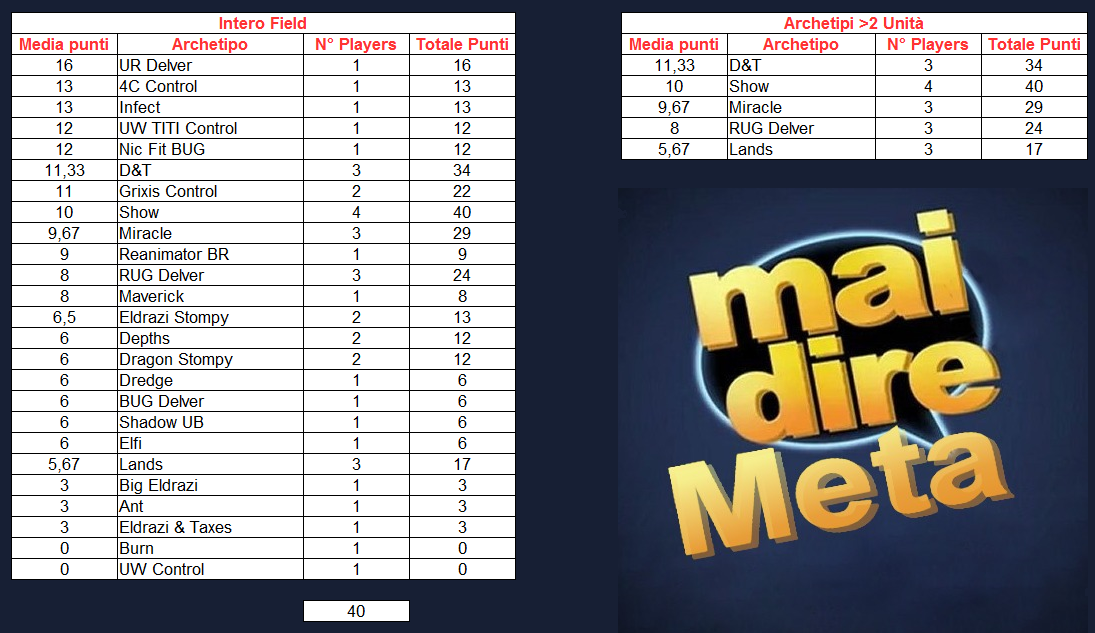 Molto bene D&T e Show che generalmente non hanno grandi performance ai Big Events della Penisola ma in questo caso sono davanti a tutti gli archetipi più giocati per rendimento. Lands invece è andato parecchio male probabilmente a causa dei pairings vs Combo o Dragon Stompy e del MU vs D&T che non è più una festa da tempo.
VIDEO:
I video dell'evento saranno postati a breve sul canale YouTube di Mai Dire Meta.
PROPS & SLOPS:
+
A Gabe e Anda che organizzano un circuito favoloso come il 4S
+
A tutte le leghe che hanno partecipato e che si sono rese sempre disponibili
+
A tutti i qualificati che sono venuti a giocarsela praticamente solo per la gloria
+
A Covoni, missile dello streaming
+
Ad Arcana che sponsorizza
+
A Miriam che ci disegna un'autentica opera d'arte
+
Ad Enrico che si sbatte per aiutarmi al massimo
+
A Cinelli e al suo staff che ci ha dato una grande mano
+
A Paolone, bravo Campione!
+
Al Zorzan dei Miracoli
+
A Ivan che paga le Tasse
+
A Gabri con le dita scomponibili
+
A Schito vero outsider della giornata
+
A Vice perchè fa schifo
+
A Claudio che centra la quarta Top di fila all'Invitational
+
A Gabba che infarta
+
A Massimo Rainieri che crede nelle FORTISSIME Thing in the Ice ma vince grazie ai Medaglioni
-
A me che non ho potere
Con questo è tutto, all'anno prossimo per un altro grandissimo Invitational che non deluderà le attese, sperando di migliorarsi anno dopo anno.
Adios